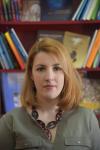 Aleksandra Terzić, Ph.D., Senior Research Associate
Research areas: Anthropology,Social Geography, Tourism, Cultural Studies
Selected References
1. Terzić, A., Demirović Bajrami, D. (2021) Environmental Sensibility and Human Values as Factors for Forming European Ecotourist Market Segments. In Handbook of Sustainable Development and Leisure Services (A. Lubowiecki-Vikuk et al. Eds.), World Sustainability Series, Springer Nature, Switzerland, ISBN: 978-3-030-59819-8 (22. децембар 2020).
2. Jovičić Vuković, A., Terzić, A. (2020) Gastronomy and regional identity: Balkans versus national cuisine. In "Gastronomy for Tourism Development: Potential of the Western Balkans" (Eds. Peštek, A., Kukanja, M., and Renko, S.) (pp. 1-27 ), Emerald Group Publishing.
3. Terzić, A., Drobnjaković, M., & Petrevska, B. (2020). Traditional Serbian countryside and second-home tourism perspectives. European Countryside, 12(3), 312-332. Doi: https://doi.org/10.2478/euco-2020-0018
4. Terzić, A., Demirović, D., Petrevska B. (2020) Active Sport Tourism in Europe: Applying Market Segmentation Model Based on Human Values. Journal of Hospitality and Tourism Research. Vol. XX, pp. 1-23, doi: 10.1177/1096348020926546
5. Petrevska, B., Terzić, A., Andreeski, C. (2020) More or Less Sustainable?Assessment from a Policy Perspective. Sustainability, 12 (8): 3491, doi: https://doi.org/10.3390/su12083491
6. Jovičić Vuković, A., Gagić, S., Terzić, A., Petrović, M., Radovanović, M. (2018) The impact of organisational learning on innovations: Case study of the Serbian hotel industry. JEEMS – Journal for East European Management Studies, Vol. 23, Issue 4, стр. 673-693. ISSN print:0949-6181, ISSN online:0949-6181
7. Terzić, A., Simeunović-Bajić, N., Jovičić, A. (2014) Community role in heritage management and sustainable tourism development - Case study of the Danube region in Serbia. Transylvanian Review of Administrative Sciences, Special Issue, December 2015, pp. 183-201.
8. Terzić, A., Bjeljac, Ž., Ćurčić, N. (2015). Common Histories, Constructed Identities: Intangible Cultural Heritage and the Rebranding of Serbia. International Journal of Intangible Heritage, Vol. 10, pp. 102 – 120.
9. Terzić, A., Bjeljac, Ž., Krivošejev, V. (2015) Cross-cultural exchange: Saint George's day customs as a common heritage of Balkan nations. Anthropological Notebooks, vol. 21, issue 2, pp. 71-88.
10. Terzic, A. (2014). Potentials for cultural route development "Fortresses along the Danube" for enrichment of tourist offer of Serbia. Special Issues, Book 88, Geographical Institute "Jovan Cvijić" of Serbian Academy of Sciences and Arts: Belgrade.